Hotel
Icon 2005 will be hosted at the West Plaza Hotel in central Wellington.
Nestled next to Wellington's Civic Centre, just 10 minutes drive from the International and Domestic Airport is the West Plaza Hotel. The West Plaza's superior central location makes it possible to experience the best that New Zealand's beautiful and exciting Capital City has to offer.


Parking is available nearby at the James Smith carpark, Lombard St, Harris St, Courtenay Central and Marion Square.
With the hotel nestled next to Wellington's Civic Centre, Manners Mall will supply you with fast food takeout, shopping. The Wakefield Markets foodcourt is also close by. Hotspots like Hell's pizza are only a walk away.
Nearby is the Courtenay Central foodcourt as well as the rest of the restaurants on the strip including theatre. clubs, beach and swimming pool all within 1 km.
Room rates for the convention (GST inclusive) are as follows:

| | | |
| --- | --- | --- |
| Rooms | Price (+ GST) | Price (including GST) |
| Single, Double, Twin | $110 + GST per night | $123.75 |
| Triple Rooms (4 available) | $135 +GST per night | $151.90 |
| Suites (3 available) | $150 + GST per night | $168.75 |
All room bookings require a first night's deposit and should be forwarded to Icon, by no later than January 31, 2005.
A map to the hotel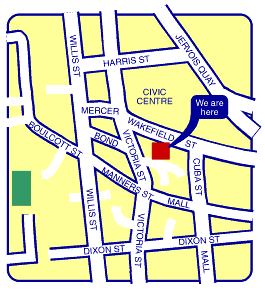 The selection of a hotel was long and arduous - here's the tale as to how this was so.